Partner content
You're invited for breakfast bites: Who's winning the direct-to-consumer battle in eCommerce
Many brands are seeing the appeal of selling direct to consumers (DTC), particularly during the massive shifts in buying behaviour during the course of the pandemic.
Dell is famously known for its DTC model, in which a manufacturer sells directly to the end user, rather than going through intermediaries like a distributor, reseller, or retailer.
The business model caught on, with many companies like Apple opting for direct sales through its websites, and its own stores.
This approach has also spread beyond consumer electronics into industries such as fashion and apparel.
It's clear that more brands are becoming clued-up about the intricacies of DTC and the benefits of engaging directly with customers at each stage of the buying journey.
Research from Similarweb found that, in 2021, consumer adoption of DTC in the consumer electronics and home appliances category grew by 9.19%, compared with 2.14% for traditional retailers.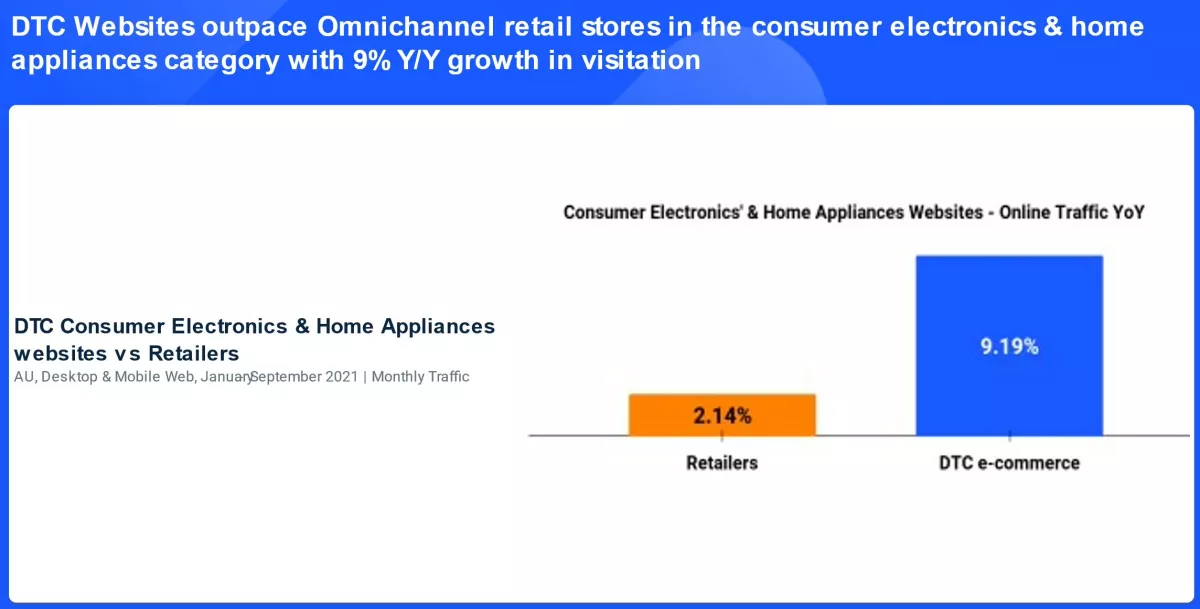 Similarweb also found that in the fashion and apparel sector, athleisure gear is becoming hugely popular. The athleisure category rapidly grew 117% during Australia's first lockdowns and 18% during Australia's second lockdowns driven by people working from home and prioritising comfort.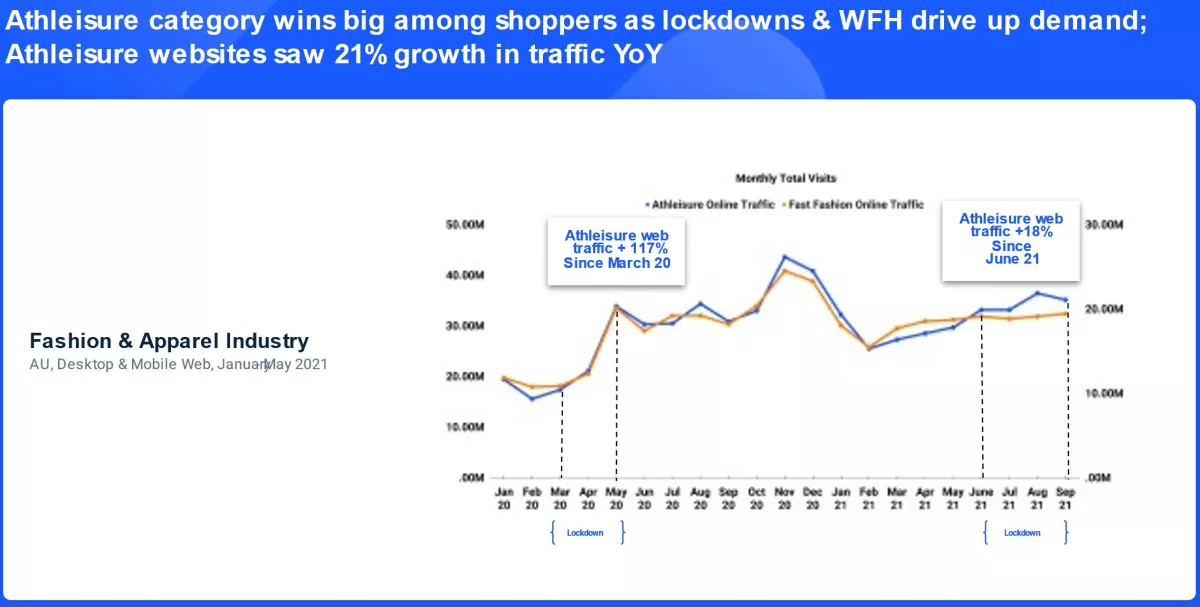 An increase in demand is great news for brands that are able to provide the right buying experience online, but it also means customers expect brands to be always available, on any platform.
What else is driving the DTC trend, and who is winning? The answer lies in data - a key element of any online strategy.
Join Similarweb for a virtual breakfast to be held on Thursday, 18 November from 8:30am - 9:00 am (AEDT).
Similarweb ANZ/SEA head of customer success, Holly Joshi, will talk through the trends that are changing consumer attitudes, as well as how DTC 'e-tailers' are driving online traffic growth.
During the webinar, Similarweb will also reveal which DTC brands are winning online in each of the two industries (Consumer Electronics/Home Appliance and the Fashion/Apparel Sectors) in Australia and some of the strategies they're using to do so.
Similarweb will also shout you breakfast! Each registered attendee will receive a $20 Uber Eats voucher to redeem on whatever breakfast delicacy they choose.
What: Similarweb's Breakfast Bites: Who is Winning in DTC
When: 8:30 am-9:00 am on Thursday, 18 November
Bonus $20 Uber Eats voucher to go towards breakfast.
Related stories
Top stories